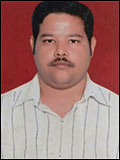 Mr. Basant Singh is an engineering graduate in Marine Technology from Saint Petersburg, Russia. He is young dynamic entrepreneur with extensive experience, a comprehensive approach and industry foresight. He has paved the way for excellence in Service Providing Industry and Refrigerant Gases Industries.
Situated in Jaipur, Rajasthan, India, Aerotech Systems is acknowledged as the prestigious wholesaler/distributor, supplier and trader of Refrigerant Gases, Refrigerant Gas R23, Refrigerant Gas R407, Refrigerant Gas R22, Refrigerant Gas R134, Refrigerant Gas R404, Refrigerant Gas R410, Refrigerant Gas R32, Refrigerant Gas R134 CANE, Refrigerant Gas R23 to name a few. As a service provider, wholesaler/distributor, supplier and trader, we are also engaged in installation, restoration and maintenance of air conditioner. As a part of our customer oriented business approach, we make necessary arrangement for direct communication with customers and air conditioner maintenance specialists in order to have a thorough understanding of clients' needs. Customer centric business approach and maintenance of punctuality are some of the important factors for which we are preferred over our competitors.
Company Fact Sheet
| | |
| --- | --- |
| Nature of Business | Service Provider, Wholesaler/Distributor, Supplier,Trader |
| Year of Establishment | 2011 |
| No. of Production Units | 1 |
| Company Registration No | 08414356694 |
| Annual Turnover | Rs 1 Crores |
| No. of Employees | 35 |

Why Us?

There are several crucial factors for which we are acknowledged as one of the reliable organizations. These include

Customer centric business approach
Sound infrastructural base
Timely delivery of ordered items and on time execution of preferred services
Affordable price of products and services
Utilization of cutting edge technical knowledge
Team of veteran professionals
Product Range
Refrigerant Gases

R-22

R-134

R-407

R-410

R-32

R-404

R-23

R-134 CAN

SF6

Service Provider & AMC

Domestic AC

Commercial AC

Chiller Plants

Cooling Towers

Water Cooled Chillers

Water Cooled Condenser

Cool Room & Cold Room

Package and Ductable AC

Split & Window AC
Get in touch with us